Chesapeake Sensory Plaza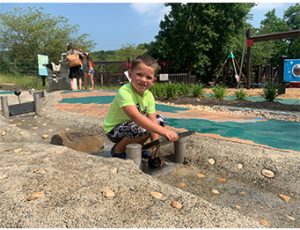 The Chesapeake Sensory Plaza at Rockfield Park in Bel Air, Maryland, is a 5,000-square foot playground that features a water and nature-themed play area Child's play at Chesapeake Sensory Plaza designed to encourage creativity, exploration and learning in a unique and interactive setting.
The nature play area represents the Chesapeake Bay watershed and highlights the importance of natural resources and the environment. It includes manual hand pumps and water switches that will start the flow of water into a 70-foot long channel traversing the length of the plaza. The channel features a variety of mill wheels, lock gates, flaps, forks and collection areas to form a highly interactive play experience. Educational signs and illustrations showcase the watershed's delicate ecosystem and the importance of water conservation and environmental stewardship practices. Ground breaking was held in mid-November 2019, with completion in the spring an opening ceremony in June 2020.
Landmark's Aberdeen, Harford County office was selected to assist the Town of Bel Air's Planning Director and Department of Public Works in bringing this project to fruition. Our in-house registered landscape architect assisted in preparing plans for construction. Site design involved obtaining spot elevations,  grading, and preparation of construction plans for bidding.