Environmental Sciences – including natural and ecological environmental services and due diligence – are provided to developers, real estate professionals, energy/utility companies, engineers, and public clients that look to Landmark Science & Engineering for our expertise. Environmental scientists provide natural resource assessments including wetland and forest related services, Forest Habitat Value Assessments, Bog Turtle investigations, environmental permitting, site investigations for voluntary cleanup services and brownfield redevelopment. We know that every project is important, and we have the professional staff and expertise to provide high quality services in a timely and cost-effective manner.
Services Provided
Our Environmental Sciences team will assist you with a wide range of services from the earliest stages of due diligence, Phase I environmental site assessments (ESA), state and federal permitting, wetland delineations, forest stand delineations, wetland mitigation design, forest conservation plans, habitat assessments, and Bog Turtle investigations. Our Remediation team provides soil testing and groundwater infiltration studies, site remediation, and site investigations for voluntary cleanup and brownfield redevelopment projects.
Qualified Professionals
Landmark scientists and remediation engineer come equipped with the technology, training, professional certifications and experience that assures quality execution. Our skilled environmental scientists are certified as Professional Wetland Scientists (PWS), Maryland DNR Qualified Forest Professionals, and Qualified Bog Turtle Surveyor in Delaware, Maryland, and Pennsylvania. Professional staff are registered as Professional Engineer (PE), Professional Land Surveyor (PLS), and Professional Landscape Architect (RLA).
We have performed hundreds of Environmental sciences projects in the mid-Atlantic region in Delaware, Maryland, Pennsylvania, New Jersey and south to Virginia, and, since 2009, Landmark Science & Engineering has offered these services with experienced, in-house staff. The combination of environmental sciences and civil engineering, augmented by GIS mapping and surveying services, helps us bring innovative solutions and enhanced value to your important site development projects.
Discuss your project with a professional:
Craig S. Smith, PWS is a registered Professional Wetland Scientist and a Maryland DNR-Qualified Forest Professional, with over 30 years of wetland and forest delineation and forest stand conservation experience. He has completed many successful brownfield and site remediation projects. Read Craig's blog to understand New Castle County's new Forest Protection Regulations. Contact Craig at 302-444-0793 or by email at info@landmark-se.com.
Amy Nazdrowicz, PWS is a registered Professional Wetland Scientist, Qualified Bog Turtle Surveyor recognized by DE/MD/PA and head of the Environmental Sciences division. She is a respected wetlands expert whose research has been published on the biodiversity of constructed wetlands and she has conducted scientific seminars and educational programs on topics including wetland creation, wetland diversity, native plants, landscape ecology, and herpetology.  Contact Amy at 302-444-0787 or by email at info@landmark-se.com.
Download the 2022 Bog Turtle Season info sheet
Douglas L. Seavey, PE is a registered Professional Engineer with a MS in Environmental Engineering and a BS in Civil Engineering.  He is experienced in all phases of environmental investigations and remediation including civil engineering design, environmental engineering data collection/investigation, data analysis, remediation/management and GIS mapping. He can arrange for your Phase I and Phase II ESAs. Contact Doug at 302-444-0792 or by email at info@landmark-se.com.
DOWNLOAD BROCHURE
Environmental Services
More Information
Click below to see more about environmental services provided.
Wetland & Forest Delineations and Related Services
Wetland and Forest Stand Delineation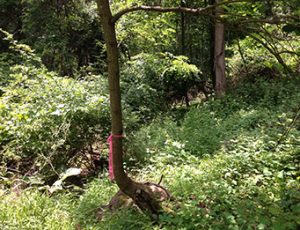 Our Sciences team will provide accurate and timely wetland and forest delineation services for your important projects. Professional staff include Professional Wetland Scientists, Maryland DNR-certified Qualified Forest Professional, GIS Specialist and technicians who are experienced in delineation of tidal and non-tidal wetlands and forested areas. They may utilize identification of native vegetation and soil, as well as state-of-the-art technologies such as LiDAR mapping. Based upon the project requirements, they will obtain state and federal Jurisdictional Determinations (JD), wetland permits, mitigation design approval and will provide forest conservation plans. Field survey staff will provide delineation flagging surveys if requested.
In connection with these wetland and forest stand delineations, staff may coordinate with various state and federal agencies including the U.S. Army Corps of Engineers (USACE), National Park Service (NPS), Delaware Department of Natural Resources and Environmental Control (DNREC) Wetlands and Subaqueous Lands Section, Delaware Division of Historical and Cultural Affairs (DHCA), Maryland Department of Natural Resources (DNR), and Pennsylvania Department of Environmental Protection (DEP), as well as county agencies.
Wetland Mitigation Design, Oversight and Monitoring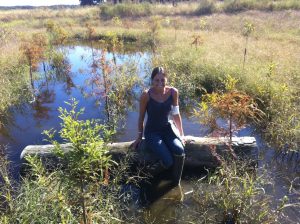 Landmark's environmental staff include Professional Wetland Scientists with expertise in wetland creation and use of native plantings. Our staff can provide the wetland mitigation plan report to compliment the civil engineering design by your consultant or by Landmark's water resources engineers. Staff will continue to assist with the wetland project by providing construction oversight, plant installation, and post-construction monitoring and reporting of the plant, wildlife, and hydrologic conditions of the created wetlands.
Compensatory mitigation may be required by local, state, or federal agencies if a property owner is addressing a violation or if a land development plan will encroach on protected wetlands or forests. We assist clients with their mitigation needs through agency coordination, permitting, and mitigation design and monitoring. When off-site mitigation is a condition of the permit, our staff can assist in locating an appropriate site meeting all requirements. See our blog My 2nd Favorite (Season)…Wetland Monitoring.
Forest Conservation Plan
Landmark's Sciences team includes qualified professionals knowledgeable in forest classification and buffer requirements. Accurate forest stand delineation and classification is integral to the site planning process. Landmark's forest professionals can conduct forest stand delineations, forest conservation plans, reforestation plans, specimen tree identification, and forest mitigation plans. Environmental laws differ between states, counties, and local municipalities, and they are frequently updated. Call Landmark's Sciences Division with any questions pertaining to forest regulations that may apply to your project.
In Maryland, the Forest Conservation Act (FCA) requires that all subdivision, grading permit or sediment control permit applications are accompanied by a prepared Forest Conservation Plan (FCP). Landmark Science's staff includes a Maryland-recognized Forest Professional certified to prepare such plans.
Our team includes qualified Forest Professionals, certified by the Maryland Department of Natural Resources, and a registered Maryland Landscape Architect who can prepare Forest Conservation Plans (FCP) and Reforestation Plans. Our staff includes Professional Wetland Scientist and  environmental specialists in wetland ecology, habitat enhancement, native plantings, and rare species surveys.
Environmental Impact Assessments (EIA, NEPA EIA)
Environmental impact assessments (EIA) vary based on the agency requiring it, but Landmark is experienced in conducting all types. For instance, if your project requires a variance from New Castle County, our engineering staff will take the lead in preparing the EIA, with supplemental sections provided by environmental scientists. On the other hand, if your EIA is a requirement of the Environmental Protection Agency or of a grant for which you have received funding, your project will have different requirements, and the EIA will be prepared by our scientists in accordance with NEPA requirements.
NEPA Environmental Impact Assessment (EIA): In accordance with the National Environmental Protection Act (NEPA), when federal funding is part of a project, the agencies involved will need to determine that no detrimental environmental impact will occur as a result of the funded project. Staff performs research and prepares the EIA in accordance with NEPA regulations for projects with federal funding associated with USDA, EDA, FHA, FAA, NIST, and others.
Bog Turtle Investigations
Bog Turtle Investigations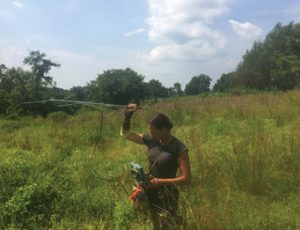 Landmark's Sciences staff includes a Qualified Bog Turtle Surveyor and approved Assistants recognized in the states of Delaware, Maryland, and Pennsylvania to conduct all of your Bog Turtle Investigations. See our blog A Bog Turtle Season for the Books! and the Chesapeake Bay Program blog to learn more.
What is a Bog Turtle? The bog turtle is the smallest turtle on the American continent (measuring up to 4 inches). It is dependent upon open, sunny, spring-fed wetlands with mucky areas. The Bog Turtle is listed as "Threatened" on the federal Endangered Species Act and in the state of Maryland. It is also listed as "Endangered" in the states of Delaware and Pennsylvania — three states in our region where the tiny bog turtle can be found and where Landmark staff is certified to assist you or your client.
If your project is located within a county known to support Bog Turtle colonies, you may be required by a state or federal agency to have a Phase I Bog Turtle Investigation conducted by a qualified surveyor. A map of the Bog Turtle's range by county in PA, DE and MD can be found on our brochure.
A Phase I Investigation involves assessing each wetland on the property in its ability to potentially support Bog Turtles. If a wetland on the property has been identified as potential Bog Turtle habitat and it cannot be provided a 300-foot buffer, then a Phase II Bog Turtle Investigation will be required.
If you require Bog Turtle investigations in Delaware, Maryland or Pennsylvania, we recommend that you call Landmark for your FREE CONSULTATION as early as possible. There are weather and timing restrictions that will affect the scheduling of these investigations and, if missed, could delay your project. Read article by Amy Nazdrowicz: Don't Let Your Project Schedule Get "Bogged" Down
Phase I Bog Turtle Investigations
Conducted anytime the ground is not frozen or snow covered
Based on findings, an agency may require a Phase II Investigation
Phase II Bog Turtle Investigations
Conducted only between April 15 and June 15
Consists of four separate searches
Two of four searches must be conducted in May
Phase III Bog Turtle Investigations
Conducted only in May-June
Consists of 20 traps per acre of habitat
Traps are checked daily for 20 consecutive days
Landmark's staff is experienced, certified, and equipped to conduct
Amy (Alsfeld) Nazdrowicz is a Recognized Qualified Bog Turtle Surveyor, certified to lead Phases I-III Bog Turtle Investigations, radio telemetry investigations and Bog Turtle construction monitoring. Her team of bog turtle technicians are approved for all types of Bog Turtle monitoring and investigations throughout the tri-state region. She is certified with agencies in Delaware (DNREC), Maryland (DNR), and Pennsylvania (PA Fish & Boat Commission and U.S. Fish & Wildlife Service).
Environmental Permitting
Our Sciences staff have extensive experience and can assist in acquiring permits as they relate to Federal Nationwide Permits (section 10 and 404, plus Section 408 approvals), Joint State and Federal permits in Delaware, Maryland, and Pennsylvania, and State-only permits including Subaqueous Lands, Air Quality, and Coastal Zone (CZM). Our staff can assist in providing support data for local or regional approvals including acquiring County variances, Chesapeake Bay Critical Area Commission (CBCAC) approvals, and Forest Stand Delineation/Forest Conservation Plan (FSD/FCP) approvals.
The Sciences staff is able to assist in acquiring permits as they relate to:
Federal Nationwide Permits (section 10 and 404, plus Section 408 approvals)
Federal permits are typically issued from the U.S. Army Corps of Engineers (USACE) for use in a variety of projects including road construction, land development, stream restoration, utility installation, drainage improvements and stormwater management, Brownfields sites, and violation resolutions. These permits typically require wetland delineations, jurisdictional determinations, and compensation for impacts.
Joint State and Federal Permits for wetland-related impacts in Delaware, Maryland, and Pennsylvania
Maryland Department of the Environment (MDE), Pennsylvania Department of the Environment (DEP), and to a limited extent, Delaware Department of Natural Resources & Environmental Control (DNREC) issue joint permits in conjunction with the USACE for projects that necessitate minor impacts to Waters of the U.S. including wetland and buffers. These permits typically require wetland delineations, jurisdictional determinations, and compensation for impacts.
State-only permits: DNREC Subaqueous Lands, Air Quality, and Coastal Zone
DNREC issues their own Subaqueous Lands permits where projects impact watercourses (streams, channels, creeks, etc.) or tidal wetlands. DNREC does not issue permits for non-tidal wetland impacts. DNREC also issues specific permits as they relate to construction and operation of commercial and industrial facilities in the Coastal Zone, and for air emissions.
Local and regional approvals
New Castle County regulates wetland and riparian buffers as well as certain isolated wetlands which may require a variance and compensation if permanently impacted. New Castle County also requires a Forest Stand Delineation which has restrictions on the amount of forest areas that can be cleared without compensation.
The state of Maryland requires a Forest Stand Delineation and a Forest Conservation Plan for most land development projects which are regulated and approved at their respective county level. The Chesapeake Bay Critical Area Commission regulates activities within the critical buffer area for the Chesapeake Bay and its tributaries.
Regulatory Mitigation
Whether wetland mitigation, upland plantings, or a habitat management plan, we can provide any site specific or impact specific mitigation that is required.
NPDES Permit Compliance
Our engineers and field staff can assist companies and municipalities with permit compliance under the National Pollutant Discharge Elimination System (NPDES).
Site Remediation - Brownfield Redevelopment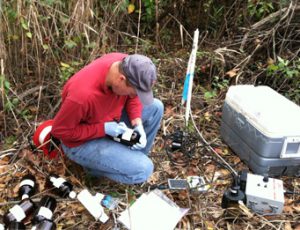 Our Remediation team consists of highly skilled, registered professionals that are experienced with surface water and ground water sampling and evaluation, aquatic biota investigations, hazardous waste investigations, air quality investigations, Phase I and Phase II environmental site assessments, and wetland assessments. They will provide site assessments, sampling, and mitigation design for all types of sites ranging from undisturbed parcels to Brownfields, and to heavy industrial sites.
Importantly, we can take your potentially‐contaminated project site and Brownfield all the way through the land redevelopment process. We are highly experienced with the special requirements for returning Brownfields sites to healthy, profitable development projects. Working closely with landowners, lending institutions, and regulatory agencies, the remediation team provides all levels of environmental due diligence necessary when purchasing, financing, or cleaning up a parcel of land.
Environmental Site Assessments (Phases I ESA, Phase II ESA)
Before time runs out on your due diligence period, our Sciences team can perform your Phase I environmental site assessment (ESA), as well as ASTM-defined "non‐scope" services, such as: radon, wetlands, asbestos containing material surveys, etc., upon request. In the event that Recognized Environmental Conditions (REC) and/or environmental issues are found on the site that need further investigation, our team can follow up with a Phase II ESA.
A REC is defined by the American Society for Testing and Materials' Standard Practice For Environmental Site Assessments: Phase I Environmental Site Assessment Process (ASTM E1527‐13) as the "…presence or likely presence of any hazardous substances or petroleum products in, on, or at a property: (1) due to any release to the environment; (2) under conditions indicative of a release to the environment; or (3) under conditions that pose a material threat of a future release to the environment."
The Phase I Environmental Site Assessment (ESA) is a visual assessment of a site, typically commercial, industrial and agricultural land types, to determine if any RECs exist. It is generally performed as part of the due diligence period when acquiring new properties, and also when property is used for collateral or undergoing refinancing. A lender may require an ESA in order to determine the environmental liability of the property so that environmental issues can be identified and resolved to avoid complications later.
The Phase I ESA includes a site visit; a review of previous reports; a review of available historical documents (e.g. aerial photographs, topographic and Sanborn Fire Insurance maps); a review of all site records from federal, state and local agencies; a Federal, State, and Tribal environmental database search; an environmental lien search; a vapor encroachment screening; and interviews with persons familiar with the property.
A Phase II ESA is performed as a follow-up to a Phase I in the event that RECs and/or environmental issues are found on the site that need further investigation. ASTM does have a standard for conducting a Phase II, however, the types of investigations can vary widely. Depending upon the identified environmental issue, the type of investigations can include sampling of asbestos, lead paint, soil, soil‐gas, and groundwater.
Soils: Groundwater Studies and Infiltration Testing
Landmark scientists and environmental engineers conduct soils testing and groundwater infiltration monitoring and evaluations. Environmental sampling is conducted for soils, groundwater, sediment, surface water, soil vapor, and indoor air in connection with site remediation and brownfields. Additionally, these services are used for various other purposes, such as:
To determine soils characterization for stormwater management design,
To monitor and evaluate conditions at municipal landfills and closed landfills, and
Septic system design involving seasonal high groundwater table determinations and percolation/Infiltration testing for sanitary sewer treatment systems.
Monitoring of Landfills (Active / Closed) and other Contaminated Sites
Landmark's Sciences team includes professional environmental engineers and scientists that are experienced in providing the monitoring, mitigation design and reporting services required for active and closed landfills and other contaminated sites.
Landmark staff will create landfill monitoring plans, perform vapor intrusion modeling, and design gas mitigation systems, as needed. Environmental sampling of groundwater, surface water, sediment, and gas vapors is conducted by staff, and the project manager oversees sampling and analysis and prepares reports for submittal to DNREC, or other states' agencies.
Landfills are regulated by the U.S. Environmental Protection Agency (EPA) and the states' environmental agencies. Municipal solid waste landfills (MSWLF) are required to be designed to protect the environment from contaminants that may be present in the solid waste stream.
Other contaminated sites may involve environmental sampling of subsurface soils and groundwater contaminated with trichloroethylene (TCE), PCBs, heavy metals and PAHs on brownfields sites, and asbestos-containing materials (ACM), lead or other contaminants found in buildings and sites.
Brownfields Redevelopment/Site Remediation/Voluntary Cleanup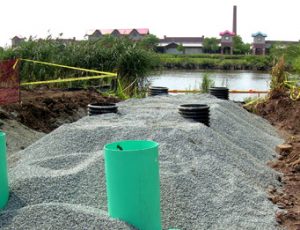 Landmark staff provides environmental consulting for sites with integrated complexities of soil and groundwater contamination requiring investigation, remediation and engineering services. Whether your site remediation is being performed under the Voluntary Cleanup Program (VCP) or with subsidized cleanup funds under the Brownfields program, or is part of a larger site redevelopment engineering project, our scientists can assist with the entire site environmental program from Phase I and Phase II ESAs through issuance of a certification of completion of remedy (COCR).
We will respond quickly and provide intensive, fast-turnaround investigation. Staff will work with multiple regulators, subcontractors and the site engineer, on your behalf, to get the work done on schedule. We can assist under the Delaware Hazardous Substance Cleanup Act (HSCA) for "Investigative and Remedial Action" and "Ecological," including ecological risk assessments, natural resources damage assessments, restorations, and enhancements.
Regulatory agencies and regulations may include DNREC Delaware Hazardous Substance Cleanup Act (HSCA) Subtitle D Solid Waste Rules; DNREC Division of Waste & Hazardous Substances' Site Investigation and Restoration Section (SIRS), Emergency Response, Subaqueous Lands Section, and Erosion & Sediment Control Branch, U.S. Environmental Protection Agency (USEPA), U.S. Army Corps of Engineers (USACE), as well as various local agencies.
The Landmark Remediation team has completed environmental investigation and remediation services for several DNREC Brownfields sites. Projects have included DNREC Subaqueous Lands permits and Remedial Action Work Plans for cleanup of sites with high concentrations of heavy metals and semi-volatile organic compounds, USEPA-approved PCB cleanup, USACE-approved Nationwide Permits for filling wetlands and Waters of the U.S. (WOTUS), as well as USACE-mandated compensatory wetland mitigation design. Staff has engineered capping plans with erosion control measures and stormwater BMPs, erosion and sediment control plans and has provided DNREC certified construction review (CCR) services.