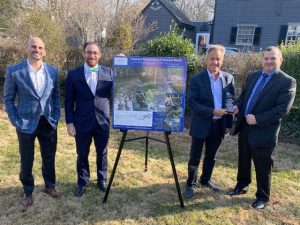 Landmark Team Wins Grand Conceptor Award
Landmark Science & Engineering received the Grand Conceptor award for design of an innovative channel restoration and bank stabilization project constructed at the Avenue North mixed-use development in Fairfax, Delaware. The project received top honors at ACEC Delaware's 2021 Engineering Excellence Awards' competition in the $1,000,000 and below construction category at the February 25 Engineers-Week Banquet hosted by NSPE-DE/Delaware Engineering Society.
Project team members Keith Rudy, P.E., Project Manager, Joseph Marvasi, E.I.T., Civil Designer, and Patrick Honeycutt, VP of Site Development for the owner and developer, received the award from ACEC Delaware's President, Brian Bolender, P.E.. Also recognized for their contributions to the project are Craig Smith, P.W.S., for state and federal wetlands permitting and Martha Durand, R.L.A., for native landscape design.
Avenue North Mixed-Use Redevelopment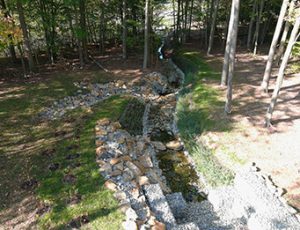 The channel restoration was completed for Delle Donne & Associates, Inc., owner and developer of Avenue North, a 1.86 million square foot, mixed-use redevelopment of the former AstraZeneca U.S. headquarters in northern Delaware. Civil engineering site design was required to restore the severely eroded, earthen, stormwater channel that sustained a large loss of tree canopy in the forested area. The project was completed in September, 2020, and has resulted in a natural, sustainable, reduced-impact site feature with visual appeal.
Hybrid Drainage Channel Restoration
Structural and vegetative measures were designed for long-term bank stabilization. Reuse of site rock, geotextile fabric, live willow stakes, and native landscaping were used to protect the banks' steep slopes. An innovative, two-tiered gabion basket structure that mimics a scour hole and weir was designed to reduce velocity and inflow energy from up to 120 cubic feet per second of peak runoff piped underground from a +60-acre developed drainage area. Two J-hook rock flow vanes and scour pools were constructed in the channel bed to direct and slow the stormwater. A concrete box culvert was designed with customized wingwalls to preserve the banks and with overflow chutes on top to control site outflow. The project involved federal and state wetlands permitting by Landmark's environmental scientists.
"We are extremely pleased that the project will provide improved water quality and a reduction of risk to downstream infrastructure, while adding value and a visually striking feature to the owner's property" said Keith A. Rudy, P.E., LEED AP, the project manager and Executive Vice President for Landmark.
Landmark is committed to providing high quality services with a comprehensive focus on sustainable design practices. Our integrated approach to providing environmental services and civil engineering, augmented with inhouse surveying, offers innovative solutions and enhanced value for our clients' public and private projects.