Ted C. Williams, President of Landmark Science & Engineering, was honored to be named the 2020 "Engineer of the Year" by Delaware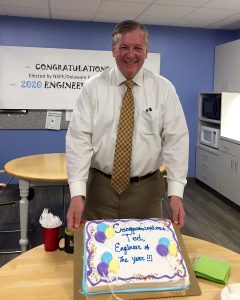 Engineering Society. DES is the National Society of Professional Engineers' Delaware chapter (NSPE-DE).
For the past 43 years, Ted's civil engineering focus has been on planning & site design, transportation and traffic studies for clients' land development projects. He is a principal owner of the 31-year old regional consulting engineering firm. He oversee offices in Newark, Delaware and Aberdeen, Maryland and a technical staff of 30 engineers, scientists, and surveyors.  Ted has been instrumental in the successful integration of environmental sciences into a traditional civil/site engineering and land surveying firm over the past 10 years.
He works tirelessly to grow the company, help staff develop, see clients' projects succeed, and to work on behalf of the public and the engineering profession.  He is a dedicated advocate for efficiency in public school construction projects. and has been instrumental in working with the Appoquinimink School District and their project team to develop a model for future school development based upon a full-school campus concept.
Ted "married his best friend, Karen" and says they "have shared 42 wonderful years together, including raising two children and enjoying two grandchildren." He adds "I fully appreciate that I would not be where I am today without Karen's support and encouragement throughout my career."
On Tuesday, office staff enjoyed sharing Ted's well deserved honor with cake!  On February 20, Ted Williams will be recognized by other professionals as 2020 Engineer of the Year at the annual DES Engineer-Week (E-Week) Banquet.