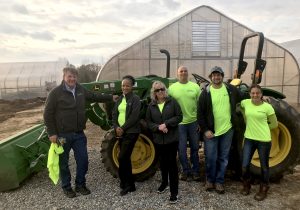 Landmark is grateful to its clients and thankful for the bounty that flourishes all around us. As we prepare to give thanks this Thanksgiving holiday, we know we can take nothing for granted. We've been volunteering at the Food Bank of Delaware Farm for several months and have become acutely aware of the food insecurity that abounds. We've also learned how we can help in a very BIG WAY.
To Farm or Not to Farm…
There are other indoor tasks at the Food Bank of Delaware, but we have found our niche on the Farm. Working the land with our hands and bringing in the harvest can be a fun and rewarding experience.
Working the land = Rewarding Experience
The Farm Manager knows what needs to be done and guides us through the process on each visit to the Farm. From preparing beds, to planting seasonal crops and watering, to harvesting the vegetables. We learn how to handling the produce and prepare it for sale:  on the Farm Stand, for use in their professional kitchen, or for distribution to those in need. Culinary students on site use the vegetables grown to prepare food for the Discover Cafe and catered events.
Farm Site Design
Site design for the Food Bank of Delaware's new expanded warehouse facilities and farm operations at 222 Lake Drive in the Pencader Corporate Center was provided by Landmark. We are pleased to see how well the new facilities and operations are going for Pat Beebe, the organization, and her staff!
Landmark principals wish you a blessed and bountiful Thanksgiving holiday.
(Note that our offices in Newark and Havre de Grace, Maryland will be closed on Friday to allow staff quality time with family.)
Ted * Keith * Helen * Dakota