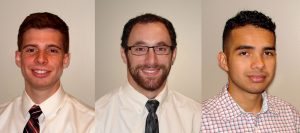 Keith Rudy, executive vice president of Landmark Science & Engineering, is pleased to announce three technical staff members who have joined the civil engineering department.  Civil engineering designers Joseph Corrado Marvasi and Antonio "Tony" Candelora, and civil CAD technician Randy Garcilazo-Ceja, add knowledge, experience and additional capacity to the engineering design team to work on the company's high-profile projects.
Joseph Corrado Marvasi
Joe earned a Masters of Civil Engineering with a concentration in Environmental Engineering and Water Resources in June at Norwich University. He was honored to receive the Outstanding Student Award of the Master of Civil Engineering Program Environmental Engineering Concentration. In 2016 he earned a Bachelor of Civil Engineering at the University of Delaware. Joe has five years of work experience in civil engineering before joining Landmark in October 2018. He is experienced in design of natural gas pipelines as well as site design and stormwater management for residential and large commercial projects.  Joe is working as a civil engineering designer while gaining valuable project experience. Joe is an active member of the Ionic Lodge #31 A.F. & A.M. In New Castle.
Antonio "Tony" Candelora
Tony earned a Bachelor of Science in Civil Engineering at Temple University in 2016.  Before that he attended Virginia Tech College of Engineering at Virginia Polytechnic Institute and State University where he was on the Dean's List for three years. Tony has worked as a civil engineering designer since joining Landmark in February 2018 and is gaining valuable project experience.
Randy Garcilazo-Ceja
Randy has recently joined Landmark as a civil CAD technician/designer. Randy attends Delaware Technical Community College and expects to earn an Associate of Applied Science in Civil Engineering Technology next spring. He brings knowledge and experience in CAD design and GIS mapping and has quickly become a valued member of the civil engineering design team.
Staff to Play a Key Role
"We are pleased to have recruited such hardworking and talented individuals who we expect will play a key role in the future of the company" said Keith Rudy, the firm's principal in charge of operations.