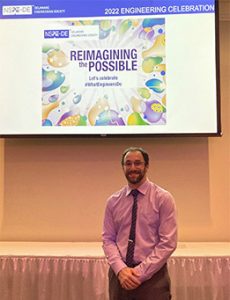 At the Engineer's Week Banquet, rescheduled by Delaware Engineering Society – NSPE/DE from February to June this year, the Delaware Association of Professional Engineers (DAPE) recognized Landmark's Joseph C. Marvasi, P.E. as a newly licensed Professional Engineer.
DAPE Council President Joseph Jakubowski, PE, LEED AP offered the recognition and passed along DAPE's "Congratulations to all persons who passed the Principles and Practice of Engineering (PE) Examination in October of 2021 and April of 2022 and are newly licensed Professional Engineers."
DAPE was created by legislation in 1972 for the purpose of regulating the engineering profession to safeguard the public's health, safety and welfare. Today, DAPE is the only licensing board in the nation that is totally self-regulated. It has over 7,500 Professional Engineers (PEs), 1,290 licensed firms, and thousands of Engineer Interns. New members of the DAPE meet stringent lawful requirements and are approved by the DAPE Council.