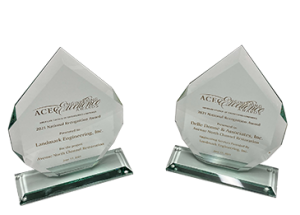 Landmark Science & Engineering was honored to win a National Recognition Award at the American Council of Engineering Companies' June 17, 2020 Engineering Excellence Awards ceremony after having won a top "Grand Conceptor" award at ACEC Delaware's competition in February for an innovative channel restoration at the Avenue North mixed-use redevelopment.
ACEC Engineering Excellence – National Recognition Award
The ACEC National Recognition Award was received for design of an innovative channel restoration at the Avenue North mixed-use redevelopment of the AstraZeneca site in Fairfax. (see project profile)
Landmark's staff provided the civil engineering design, wetland delineation and environmental permitting, surveying, and landscape design to restore a severely eroded stormwater channel that had sustained a large loss of tree canopy. Structural and vegetative measures were designed for long-term stabilization. Sustainable site features included reuse of site rock, geotextile fabric, live willow stakes, and native landscaping to protect the steep slopes. An innovative, two-tiered gabion basket structure, J-hook scour pools, and a customized box culvert were designed to reduce stormwater inflow velocity, preserve the banks, and control outflow from the site.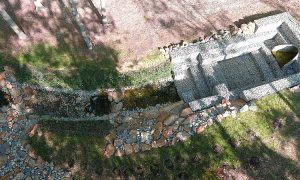 A visually striking feature
Principal and Project Manager Keith Rudy said he was "extremely pleased that the project will provide improved water quality and a reduction of risk to downstream infrastructure, while adding value and a visually striking feature to the owner's property." Landmark worked closely with the owner/developer, Delle Donne & Associates, and the constructor, Sanco Construction Company to create this winning project.