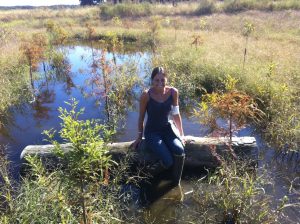 Landmark Science & Engineering is pleased to announce that Amy Nazdrowicz, PWS, who is a company associate and environmental scientist/ecologist, has earned certification as a Professional Wetland Scientist (PWS). Amy joins an exclusive group of just 14 other certified professionals in all of Delaware who have achieved this level of professional recognition, and few of whom work in the private sector. She is also known as Delaware's only resident Qualified Bog Turtle Surveyor.
Society of Wetland Scientists' PWS Program
The Society of Wetland Scientists' Professional Certification Program was created to meet the needs of professional ecologists, hydrologists, soil scientists, educators, agency professionals, consultants, and others who practice wetland science. It is aimed at serving the public's need to identify qualified individuals to assess and manage the Nation's wetland resources.
Natural Environmental Science Division Leader
Ms. Nazdrowicz heads up Landmark's natural environmental sciences division. She earned a Master of Science in Wildlife Ecology at the University of Delaware in 2006 after completing a Bachelor of Science in Environmental and Forest Biology at SUNY Environmental Science and Forestry. For the past 16 years Amy has specialized in wetland creation, native plantings, monitoring of created wetlands for the success of plant, wildlife, and hydrologic conditions, and conducting rare, threatened and endangered wildlife studies. She leads phases I-III Bog Turtle Investigations in DE/MD/PA. She works closely with state and federal regulatory agencies during all phases of the wetland permitting and mitigation approval processes and presents at county land use hearings.
Wetland Mitigation & Creation Expert
Amy (Alsfeld) Nazdrowicz is a respected, published expert on evaluating the effects of wetland amendments on the biodiversity of constructed wetlands. She presents at professional scientific seminars and educational programs. Topics include wetland creation, wetland biodiversity, native plants, landscape ecology, and herpetology. Amy is a Certified Habitat Steward with Delaware Nature Center and volunteers at their Native Plant Sale and Marshes and Monarch Celebration. She is also a volunteer at the Food Bank of Delaware's new farm.
And now there are 2… PWS at Landmark!
"Landmark is fortunate to have Amy on our team" said Executive Vice President Keith A. Rudy. "She possesses a combination of knowledge and commitment to ecology and wildlife, and works tirelessly in the office, field, and on construction sites for the success of our clients' projects." Keith also pointed out that "Amy joins her coworker, Craig Smith, as one of only 5 PWS in New Castle County who have qualified to earn the coveted, national-level, Professional Wetland Scientist certification."