Fairview Campus Sports Complex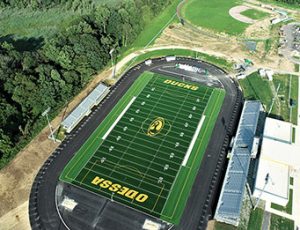 The second phase of Appoquinimink School District's Fairview Campus for grades 6-12 boasts a comprehensive sports complex for use by Odessa High School and Cantwell's Bridge Middle School students. The facilities were completed in September, 2020.
Six tennis courts and a 10-field sports complex is comprised of eight turf fields and two multipurpose, synthetic-turf, football/soccer/lacrosse fields (one in the stadium and one a practice field). A rubberized 8-lane track surrounds the multipurpose field for track and field events. The stadium has a 3,000-spectator seating capacity and the 12,000 square foot fieldhouse includes student and referee locker rooms, concessions and press box, and LED lighting has been provided for nighttime events.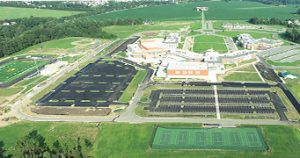 Landmark led the design for all of the sports facilities while coordinating services with the multidisciplinary, architect-led team for the overall school project. Landmark provided planning, site design, drainage and stormwater management, erosion and sediment control, utilities, permits and agency processing for the athletic facilities. A specialist subconsultant firm provided design of field irrigation, one synthetic turf football/soccer field, and LED stadium lighting.