Athletic Field Turf & Replacement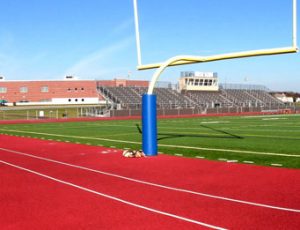 Landmark Science & Engineering has reputation and expertise in the design of secondary and post-secondary school athletic fields and municipal sports facilities with both natural and synthetic turf surfaces. Whether it is the design of a new athletic field, conversion from natural to artificial turf, or replacement of the synthetic turf with new carpet, we have the experience with design, specifications, and construction of state-of-the art artificial turf fields and rubberized running surfaces for track and field events.
As more public and private property owners decide to spend the up-front cost to install artificial turf over the maintenance costs of re-sodding, watering and mowing natural turf (and the elimination of pesticides and herbicides), Landmark's skilled technical staff helps our clients. Additional value-added benefits include multi-sport striping of the field (permanently or temporarily), the field can be used for more hours per day without field recovery time, more months out of the year, and in almost any type of weather.
Landmark provides civil engineering services for the design of athletic fields involving the surveying, site design (layout, grading, erosion and sediment control) – including under-field drainage and stormwater management design, environmental studies, permits and agency processing. We also assist clients with bid-phase and construction-phase services such as certified construction review and stormwater as-built surveys.
Examples of project experience: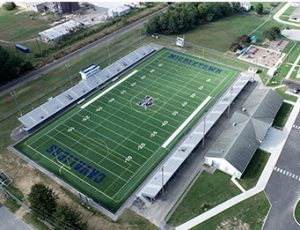 REPLACEMENT:
Appoquinimink Artificial Turf Replacement, Middletown, DE:

Cavaliers' Stadium Field (1)
Middletown High Field (1)
Appoquinimink High Jaguars' Stadium & Practice Fields (2)
NEW:
Odessa High/Fairview Stadium (Field & Track & Practice Field), Townsend, DE
Wilmington University Sports Complex/Stadium (Field), Bear, DE
Middletown High (Field), Middletown, DE

New Turf Multipurpose Field at Wilmington University Sports Complex

Calvert Regional Park Stadium (Field), North East, Cecil County, MD
Appoquinimink High (Practice Field), Middletown, DE
CONVERSION:
Lake Forest High Spartans' Stadium (Field & Track), Felton, DE
St. George's Technical High (Field & Track), Middletown, DE
Cavaliers' Stadium (Multipurpose Field), Middletown, DE
Appoquinimink High Jaguars' Stadium (Field & Track), Middletown, DE