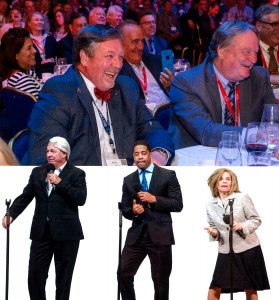 Certainly not Ted Williams who had a blast at the 2019 spring ACEC Annual Convention in Washington, D.C.
Engineering Inc. reports raucous laughter…
"The Capitol Steps' unique brand of political impersonations and parody drew plenty of raucous laughter from Ted C. Williams, former ACEC Chairman, with spoofs such as a singing President Donald Trump, with Barack Obama and Hilary Clinton as backup chorus" reported Engineering Inc. magazine in the May/June 2019 issue.
The annual event highlighted topics such as emerging markets and best practices in business management, as well as a lively discussion by Futurist Salim Ismail.
Honored to Serve ACEC
Ted C. Williams served as the national ACEC Chairman from 2012 to 2013. He said he found the experience to be "both rewarding and humbling." In 2011 Ted was elected to the ACEC College of Fellows and in 2015 he was inducted to Order of the Engineer.