St. Michaels Town Office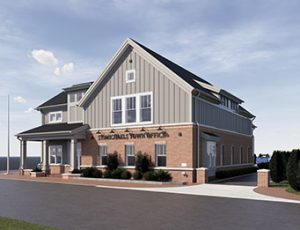 St. Michaels Town Office will be a new 5,928 square foot office building constructed on a 12,655 square foot site that also includes a parking lot with 15 parking spaces. The site is located at the intersection of Fremont Street and Canton Street in the historic coastal town of St. Michaels, Talbot County, Maryland and located within the Chesapeake Bay Critical Area. Landmark was selected as a subconsultant by the project architect, Manns Woodward Studios, to provide planning, site design and agency processing services for  the project which is currently out for bids.
Stormwater Management & Chesapeake Bay Critical Area Expertise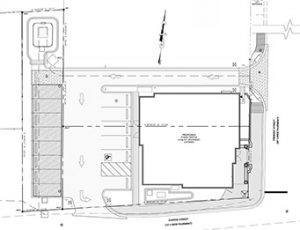 Stormwater management for the St. Michaels Town Office site will be addressed by utilizing two ACF Environmental FocalPoint® biofiltration system stormwater quality facilities and an underground facility consisting of R-Tank® underground stormwater storage system and stone for storage. Because the stormwater management facility discharges to an underground storm drain system, the quantity management had to be designed to accommodate the 2-year and 10-year storm frequencies. With the site located in the Chesapeake Bay Critical Area, stormwater management design also needed to address the 10-percent pollutant loading reduction requirement of the Critical Area Commission.
Talbot County Experience
Water and sewer facilities for the Town Office were designed in accordance with standards set forth by the Town of St. Michaels and the Talbot County Sanitary District in which St. Michaels lies. Sediment and erosion control plans were reviewed and approved by the Talbot Soil Conservation District.
Key Project Elements
FocalPoint® biofiltration system for stormwater quality mgmt.
R-Tank® underground stormwater storage system for quantity mgmt.
Chesapeake Bay Critical Area 10% pollutant loading reduction requirement
Town of St. Michaels and Talbot County Sanitary District design standards
Talbot Soil Conservation District approved sediment and erosion control plans