Promenade Wetland Mitigation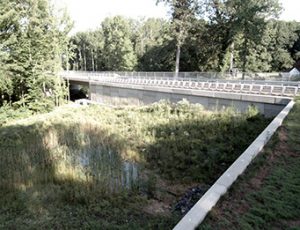 The western half of the 101-acre property was developed in 1962 as a manufacturing facility, and later used as a storage facility and a retail business. Landmark was contracted to perform a Phase I Environmental Site Assessment, a wetland delineation, and a forest stand delineation on the subject property by the developer who intended to demolish the existing facility and build a large retail center called the Promenade at Christiana. DelDOT required a connector road as part of the project. See the Eagle Run Road profile page for more information about that portion of the project.
Sciences staff acquired the necessary federal permits to construct a new one-mile extension of Eagle Run Road and to support construction of a new 45.7-acre retail center. The project and roadway required three stream crossings and associated wetland impacts, necessitating a U.S. Army Corps of Engineers' (USACE) Nationwide Permit (NWP 39) and a Delaware DNREC Subaqueous Lands permit.
Two compensatory forested wetland mitigation areas (.58 acres) were designed and incorporated into the undeveloped lowland portions of the property as a condition of the NWP 39. Minor stormwater management design plan changes resulted in slightly increased wetland area impacts but consolidated two small wetland mitigation areas into a single large area, thus requiring a modification to the NWP 39 issued for the project. The same design changes also slightly increased the cleared forested areas and wetland buffer impacts which required an Environmental Impact Assessment report and a variance from New Castle County.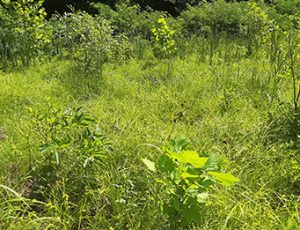 Created Wetland Mitigation Area #2
Landmark's scientists acquired permit modifications to resolve an accidental clearing mistake by the site contractor and to relocate and reconfigure mitigation areas to accommodate tenant design changes.  Provided construction and planting oversight for Wetland #2, a 0.135-acre forested wetland mitigation area.  Annual Monitoring and Reporting services of the highly successful Wetland #2 have completed the five-year Monitoring Program.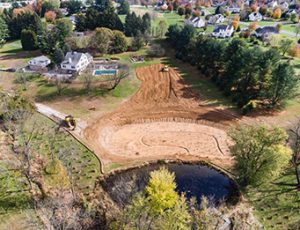 Created Wetland Mitigation Area #1
Due to a delay in construction of the commercial retail center that resulted in a lack of surface water runoff to supply hydrology into the created wetland, we obtained approval from the USACE for an off-site location for Wetland #1. The +0.25-acre forested wetland mitigation area was constructed on a residential site in the state of Pennsylvania that was located in the same watershed. Landmark's scientists provided construction and planting oversight. Annual Monitoring and Reporting services will be provided for a five-year period beginning in 2021.