DEARNG FMS #5 VMS Dagsboro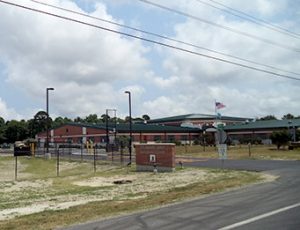 Landmark was retained by the project architect to develop the site civil bridging documents for the design-build Vehicle Maintenance Shop facility at FMS #5 – Dagsboro Readiness Center. The Delaware Army National Guard (DEARNG) project replaced an existing 13,000 square foot building with a new 16,000 square foot, state-of-the-art Vehicle Maintenance Shop Facility that will be compliant with all United Facilities Criteria (UFC) guidelines, while making improvements to the stormwater management facilities and on-site parking. The site includes the construction of an underground stormwater management system to ensure sufficient area for the facility and parking.
The new facility comprises oversized work-bays equipped with overhead bridge cranes to accommodate military vehicles, as well as administrative offices and associated support space, such as training areas and locker rooms. Other features include a geothermal HVAC system, photovoltaics, a wash platform, loading dock, and security fencing around the perimeter. The team also provided design for 3,655 SY of rigid concrete pavement for parking of military vehicles and heavy equipment, and 550 SY of asphalt pavement.
Scope of Work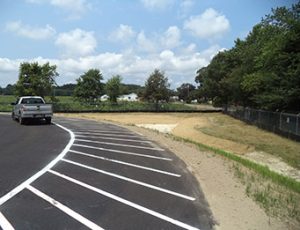 Landmark provided the planning and design required to provide conceptual site design and preparatory work for RFP issuance and selection of a design-build contractor. Work included civil engineering site design (to 30%), boundary and topographic land surveys (aerial and ground based), agency approvals,  construction administration, and DNREC Certified Construction Review engineering services.
Challenging Project Elements
Elimination of a stormwater pond
Zoning codes (portions of project located in municipality and county)
Presence of a prior easement
Incorporates all constraints to produce a federal and state-compliant facility (UFC / DNREC / DelDOT)