Crystal Run ES at Summit Campus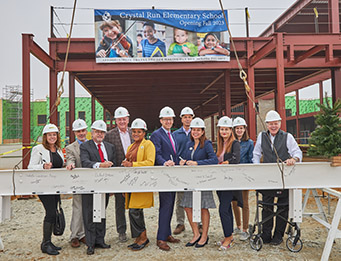 Landmark Science & Engineering was selected by the Owner to develop the Summit Campus – a new 142-acre pre-K to 12 full school campus in southwestern New Castle County off S.R. 896, named for its proximity to Summit Aviation.
Phase I construction will include Crystal Run Elementary School (92,000+/- SF), full site entrance on Summit Bridge Road, off-site road improvements, off-site sewer improvements, and a portion of the site improvements. The groundbreaking ceremony was held at the site on November 15, 2021 and construction was progressing on schedule at the time of the beaming signing in November, 2022.
Scope of Work
Landmark provided planning, surveying, site design, stormwater management, a Site Record Plan has been recorded and site construction plans were prepared for Phase I.