Mt. Pleasant Elem./Admin. Conversion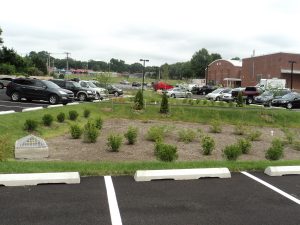 Landmark provided site/civil and environmental components as part of a large building renovation project which included major site and traffic improvements. The Brandywine School Distract elementary school conversion including adding a new District Administration office. Minor additions included a covered entrance ramp and vestibule, and an interior breakroom.
Site improvements included a new entrance road and renovations to an existing entrance on Brandywine Boulevard, a new parking lot, ADA-compliant sidewalks, curbs, and ramps. Stormwater management green technology BMPs included two bio-retention basins, a subsurface system under the parking lot, and filter strips.
Staff provided perimeter and topographic surveys, forest delineation, soil testing for prior environmental site contamination, civil/site design, stormwater management, erosion and sediment control plans, utilities including a new sewer lateral, a new entrance road. Agency processing through DNREC (Stormwater Management and Erosion & Sediment), New Castle County (Grading and Record Plan), and DelDOT (Entrance Plans and ADA Safety Permit). Construction-phase services: construction administration, stakeout, and certified construction review (CCR).