Avenue North Mixed-Use Development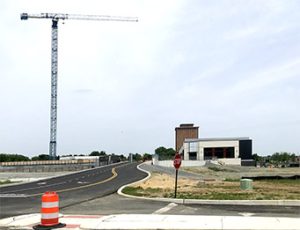 Avenue North is a mixed-use redevelopment of the former AstraZeneca Campus that was originally envisioned as a 1.814 million square foot corporate headquarters of the U.S. Operations of AstraZeneca. The Avenue North project will create approximately 1.864 million square feet of office, residential, retail, restaurant, and hotel and conference accommodations on the 79-acre campus located at Concord Pike (US Route 202) and Powder Mill Road in Fairfax, Wilmington, Delaware.
While construction proceeds, office tenants on site include AstraZeneca, ChristianaCare, and Solenis, and retail tenants include BlkOps Fitness and Brew HaHa! with more to come when Building 9 opens in 2023.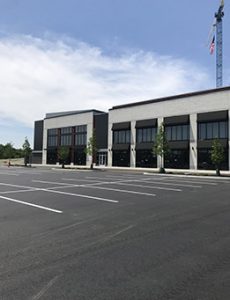 Avenue North by the Numbers
The $400 million Avenue North mixed-use development will add about 113,275 square feet of office space to the existing 860,000 square feet. The project will create 360 apartments, 12 new buildings, a 12,000 square foot fitness center, 10,000 square foot day care facility, a 200-room hotel and conference center, and 45,000 square feet for restaurants and 182,753 for retail use. Four new roads are being constructed.
Multi-Phase Construction
Phase I construction of a structured, 7-story parking garage to serve the parking needs of current and future tenants was completed in June 2020. An award-winning stormwater channel restoration project that created a striking feature for the property was completed in September 2020. With site infrastructure now in place, retail Building 9 is nearly complete and construction of a 12-story office tower was started in April 2023.
The Delle Donne Design & Construction Team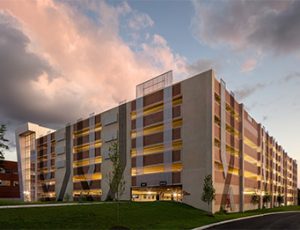 Landmark was engaged by Delle Donne & Associates to assist them and their design team of Bernardon, EDiS, Tarabicos & Grosso in creating a development that would not only meet the criteria of the zoning classification, but would also provide customer-based services that large corporate tenants demand today in order to attract talent for research and development in the biotech and medical arenas. This demand includes office, residential, retail, restaurant, and hotel accommodations all within a walkable environment.
Creating a Mixed-Use Development
The challenge for the mixed-use development was to create a mixture of uses within the  site that would provide for the necessary amenities while maintaining the required reduction of single-occupancy vehicles during the AM and PM Peak Hours found in the Traffic Mitigation Agreement (TMA) governing the original AZ Corporate Office Campus.
Scope of Services
Landmark performed all planning, surveying, traffic studies, civil engineering and site design, environmental sciences and permitting, as well as construction-phase services required by the owner and developer. The  Land Development Plan was recorded with New Castle County in record time and required just one special-use permit for the parking garage and no variances. Landmark created phasing plans for the project that will allow new utilities, new roadways and new parking areas to be constructed while maintaining uninterrupted uses by the existing tenants.