Fairview K-12 Campus *Award Winner*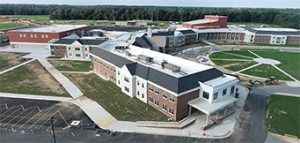 Fairview Campus is a large-scale K-12 educational campus in the Appoquinimink School District. The 272-acre campus, located in Townsend in southern New Castle County, is the state's first public Early Childhood K-12 campus. In August 2012, the first two facilities – Spring Meadow Early Childhood Center and Old State Elementary School – opened to K-5 students. In September 2020, the interconnected Odessa High School and Cantwell's Bridge Middle School opened for grades 6-12, with shared performing arts center, athletic/sports, and other facilities. The campus was built to accommodate up to 4,000 students, and is recognized as a Model for School Development. In Juen 2022,
Athletic Facilities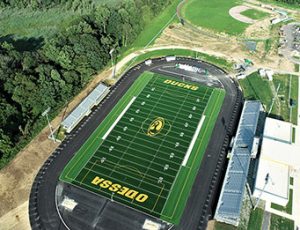 Six tennis courts and a 10-field sports complex is comprised of eight turf fields and two multipurpose, synthetic-turf, football/soccer/lacrosse fields. A rubberized 8-lane track surrounds the multipurpose field for track and field events. The stadium has a 3,000-spectator seating capacity and the 12,000 square foot fieldhouse includes student and referee locker rooms, concessions and press box, and LED lighting has been provided for nighttime events.
Integrated Services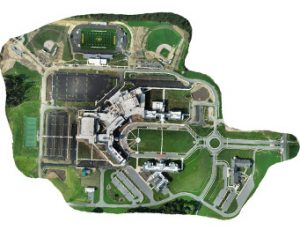 Landmark was responsible for site planning, civil engineering, floodplain analysis and FEMA map revision, site design including stormwater management BMPs, utilities, roadway, multiple environmental services, and construction-phase services. Work was completed in a complex environment integrated with other team members for master planning and simultaneous building design and construction for each of the two phases.
Environmental Sciences
The 272-acre Fairview property was originally a large farm surrounded by mature and young forest lands on a large peninsula bordered by tidal and non-tidal wetlands and open water. Landmark's environmental scientists performed rare, threatened, and endangered (RTE) species/habitat studies, phase I and phase II bog turtle investigations, wetland delineation and preparation of report to the USACE and Delaware DNREC Wetlands Branch, and forest stand delineation (FSD).
Unified Construction Plan
Fairview's unified construction plan saved a lot of money by thinking 'outside the box.' Capital cost savings were derived from reducing the overall infrastructure built for one site vs. four separate school sites. Shared infrastructure includes: 1) stormwater management facilities, 2) utilities, 3) entrance, 4) roads, 5) parking lots, 6) access ways, 7) athletic amenities.
Clustering the buildings around a central campus allowed utilities, such as sewer, water, etc., to be installed via central trunks from a single source, creating additional infrastructure cost savings. The project needed only one water meter pit rather than four, saving $90,000, three fewer connections to the water system saved $50,000, and three fewer sewer connections saved $20,000. Three fewer vehicular entrances onto a public road saved $450,000 and reduction of 10 acres of paving saved +$5,000,000. Similar financial benefits occurred with every other element of the infrastructure and shared school facilities. Economies of scale also played a role in savings. Long-term operating and maintenance costs savings of the stormwater management and other facilities will be realized, and bus routes are consolidated, shortening routes.
View our Blog about another Award Winning project!