Fairview Campus – First Public K-12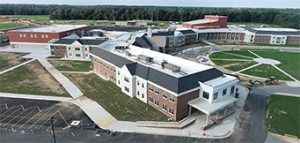 Fairview Campus is a large-scale K-12 educational campus in the Appoquinimink School District. The 272-acre campus is the state's first public Early Childhood K-12 campus. It is located in Townsend, in southern New Castle County.  In August 2012, the first two facilities – Spring Meadow Early Childhood Center and Old State Elementary School – opened to K-5 students. In September 2020, the interconnected Odessa High School and Cantwell's Bridge Middle School opened for grades 6-12, with shared performing arts center, athletic/sports, and other facilities. The campus was built to accommodate up to 4,000 students, and is recognized as a Model for School Development.
Athletic Facilities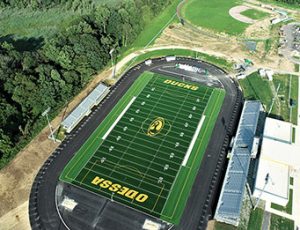 Six tennis courts and a 10-field sports complex is comprised of eight turf fields and two multipurpose, synthetic-turf, football/soccer/lacrosse fields. A rubberized 8-lane track surrounds the multipurpose field for track and field events. The stadium has a 3,000-spectator seating capacity and the 12,000 square foot fieldhouse includes student and referee locker rooms, concessions and press box, and LED lighting has been provided for nighttime events.
Integrated Services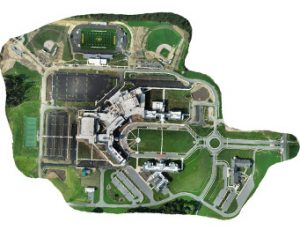 Landmark was responsible for site planning, civil engineering, floodplain analysis and FEMA map revision, site design including stormwater management BMPs, utilities, roadway, multiple environmental services, and construction-phase services. Work was completed in a complex environment integrated with other team members for master planning and simultaneous building design and construction for each of the two phases.
Environmental Sciences
The 272-acre Fairview property was originally a large farm surrounded by mature and young forest lands on a large peninsula bordered by tidal and non-tidal wetlands and open water. Landmark's environmental scientists performed rare, threatened, and endangered (RTE) species/habitat studies, phase I and phase II bog turtle investigations, wetland delineation and preparation of report to the USACE and Delaware DNREC Wetlands Branch, and forest stand delineation (FSD).