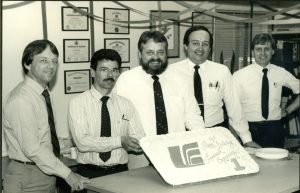 E. Lowell Jacobs, P.E., was one of the five founding principals of Landmark Engineering, Inc. in 1987. Although he retired in 2007 on his 20th anniversary with Landmark, his passing, on January 22, 2022 at the age of 80, still leaves us with a strong sense of loss as we remember the mark he left on Landmark and those with whom he worked. His obituary was posted in The News Journal on 1/30/22.
Diverse Experience
Lowell retired from a 44-year career in civil engineering. In addition to working for Landmark and also E. H. Richardson Associates and its successor, Tetra Tech, in Delaware, he previously worked in California and Illinois.  He was known for his work on high-profile, site-design projects all across our region. His diverse experience involved historic preservation of hydraulic structures, flood studies and flood abatement, sanitary and storm sewers, and planning and site design for land development projects. Some noteworthy projects include: historic research and restoration on the Chesapeake and Delaware Canal, Fort Delaware of the Civil War era, and the Chesapeake and Ohio Canal in western Maryland. Hydrologic and hydraulic work on several historic mills and waterworks including Fairmont Waterworks, Philadelphia, PA; Brandywine River Museum and the Andrew Wyeth Mill Restoration in Chadds Ford, PA;  Dayett Mills in Newark, DE; and Juniata Woolen Mills near Breezewood, PA. He also provided site design for many site development projects including the Ommelanden Shooting Range, DEMA Emergency Operations and Transportation Management Center, and other public works projects.
More than a Civil Engineer
Lowell served as Landmark's marketing director and played a key role in developing a successful strategy for procuring our public and private residential, commercial, municipal and institutional site development projects in Delaware, Maryland, and Pennsylvania. He was instrumental in opening successful branch offices in Dover, Delaware and Wayne, Pennsylvania. And, as if that wasn't enough, Lowell was also the best "grill man" at Landmark's large, annual, family picnics at Lums Pond.
The WOODPILE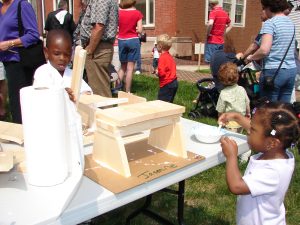 Lowell was a dedicated family man to his wife and three sons, and was very involved in community services. He and his wife, Pat, were the  originators of "The WOODPILE," a children's wood building event to promote architecture and engineering that Landmark sponsored for 15 years at Old Dover Days and other community and trade events; it was later taken over by the Delaware Architecture Foundation. In addition to membership in professional organizations, he was involved and actively supported the Delaware Academy of Science, Muscular Dystrophy Association events, and the Pencader Heritage Area Association.
Many Passions and Hobbies
You may have even seen Lowell dressing the part for reenactments of rural/frontier life at community events around Delaware. He had a lifelong passion for woodworking. Notably, he carved the Stations of the Cross for the St. Thomas More Oratory on the University of Delaware campus in Newark.  He also authored an account of the church which was included in a commemoration book in 2008 called "History of Newark, DE," for the City's 250th anniversary, and had over 80 published articles in various publications.
A Memorable Character & Eclectic Spirit
Lowell was such a diverse, interesting, eclectic spirit.  He enjoyed building and playing 5-string bluegrass banjos and was an avid deer hunter and bass fisherman.  He took his time getting around, never rushing, but would quickly jump to engage you with a long, detailed story if given the chance. He had a gentle but interesting charm, and was truly a memorable character.
Landmark's principals and staff appreciate his many years of dedication and professionalism, and continued support and friendship over the years. He will be missed.