Landmark Science & Engineering's Zoom-Zoom-Zoom'in staff celebrated the company's 33-Year Anniversary from remote locations today!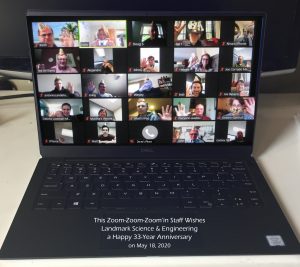 Landmark Engineering, Inc. opened for business on May 18, 1987 by five civil engineers, specializing in land planning, site design and land surveying for public and private clients. Founding principals were: F. Thomas Prusak, Bruce J. Tease, E. Lowell Jacobs, Thomas D. Carroll, and Anthony Severino.
Congrats to the five longest serving personnel at Landmark today, going back over 30 years: Associate Donna Butz, Joe Beverin, Bob Morgan, Principal Ted Williams PE, and Mike Briscoe – in that order.
It's been an exciting ride these past couple of years: welcoming new staff with amazing talents … Martha Durand RLA, Tony Candelora, Joe Marvasi EIT, Debbie Gotshall, Matt Spagnuolo EIT, and Craig Lynch EIT – and a new Principal: Dakota Laidman-Murray PE. And not to overlook staff achievements, such as: Craig Smith and Amy Nazdrowicz who became Professional Wetland Scientists, joining a very small, distinguished group here in Delaware.
Congrats to a GREAT Team!
Long live Landmark Science & Engineering!