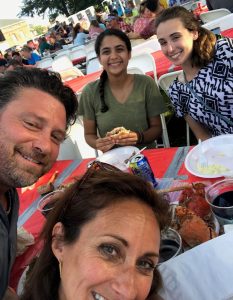 No one seemed to mind when Landmark's summer engineering interns, Larissa Gaul and Taira Baldauf, got a bit "crabby" last week, but, then, they were just having some fun! Helen Apostolico, Roy Zeigler PLS, Craig Smith PWS, and Bob Morgan also attended the Crab Feast hosted by ABC Delaware.
The two University of Delaware interns will be working in all departments this summer. This rotation will give them a "taste" of the entire civil engineering and site development process. They'll have hands-on experience with site/civil engineering, surveying, certified construction review, natural environmental sciences and remediation, and GIS mapping.
Larissa is working on a Bachelor of Environmental Engineering degree, with a concentration in water resources and water quality, and a minor in Energy and Environmental Policy. Taira is working toward a Bachelor of Civil Engineering degree and a minor in Geological Sciences. Landmark's principals are happy that the students chose to join the Landmark team this summer so they could learn more about their chosen field.