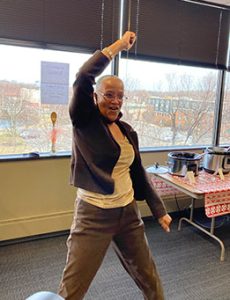 Nina Hinton wins the "Golden Spatula Award" at Landmark's annual Crockpot Cookoff which was held on Mardi Gras's Fat Tuesday this year. John Frank, the last winner of the award, passed the Gold Spatula Trophy on to Nina whose Chicken & Dumplings took first prize.
The second place winner was Dakota Laidman-Murray with her Veggie Chili and third place  winner was Amy Nazdrowicz's (Brent Sulekis') Turkey-Sausage Chili. Other awesome submissions were Joe Beverin's Potato Soup with cheese, bacon bits and green onions and Janet Pippert's New Orlean's Gumbo with shrimp, sausage and chicken and beer bread. 
Landmark's got some of the BEST COOKS around…and that's no CROCK!