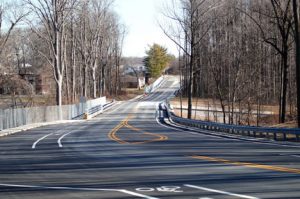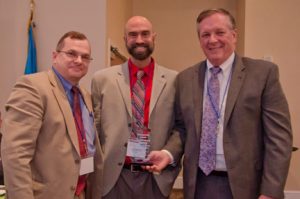 Landmark Science & Engineering was honored to receive the 2020 Engineering Excellence "Conceptor Award" for the new Eagle Run Road extension project. The project won in the highest, over $5 million construction category, in the prestigious competition sponsored by ACEC of Delaware.  Ted Williams and Keith Rudy accepted the award for the project team at the Delaware Engineering Society's annual Engineers' Week (E-Week) banquet.
One of the state's best kept secrets is the new one-mile extension of Eagle Run Road in New Castle County. The project fulfills DelDOT's long-desired alternate grid-road, connecting Route 273 to the Christiana Mall, parallel to I-95. Designed as part of a proposed private-sector redevelopment, the state requested widening of existing Eagle Run Road and a challenging one-mile extension through heavily wooded terrain, crossing two major streams.  A large public roadway project – fully funded by the private sector  – is not the norm for Delaware!
The project involved creating right-of-way plans with several different property owners and 110-foot and 78-foot spans to bridge the multimodal connection that accommodates walking, biking, and driving. In addition to planning, surveying and roadway design, Landmark staff performed the accurate mapping of environmental features (wetlands and streams), federal and local environmental permitting, and stream stability assessment and computational scour analysis for the two bridge structures.
President and Project Manager Ted C. Williams gave kudos to Keith Rudy "for development of an efficient and innovative use of gabion baskets with a specialized 'flow vane' that focuses on redirecting flow to the center portion of the channel under the bridges." Ted believes this was the first such application in Delaware, where large rocks or other hardened structures are typically used for scour protection. He said "by reducing the footprint for the scour countermeasures, the gabion baskets reduced the overall ecological impact and were cost effective." Keith A. Rudy, the firm's principal in charge of water resources engineering, agreed, saying "this was Win-Win solution for the client, state, and environment."