Landmark's President Ted C. Williams was both humbled and honored to be named the 2020 Delaware Engineer of the Year. The Delaware Engineering Society presented him with this distinguished award at their annual Engineers Week Banquet in February.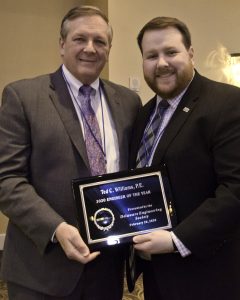 Engineer of Year Influences
Ted attributes much of his success to past award winners who influenced him. From Jeffrey Bross, who hired him for his first job in Delaware, to Landmark's founding president and retired partner, Thomas F. Prusak, who encouraged his involvement outside work hours to support our profession, businesses, and community, to Stephen Johns, who nominated him for the award.
44 Years and Counting
Ted Williams, PE, FACEC, ExecEng, has comprehensive experience from working 44 years in civil engineering, site design, and project management on a wide variety of land development, transportation and construction projects. Throughout a stellar 32-year career with Landmark, Ted helped to build and lead a successful, regional civil engineering, surveying and environmental services consulting firm in Delaware and Maryland.
Recognizing Extraordinary Commitment
He was recognized not only for his tireless work on behalf of the public, clients, and staff – earning credibility and loyalty – but also for his commitment to family, sports coaching, and advocating for STEM-based education. He has been asked to serve on, and lead, numerous local and national committees and boards, and to address the General Assembly in support of improvements to Delaware's infrastructure and for STEM-based education for all middle and high school students – two of his passions. He is Chairman of the Council on Transportation, President of Committee of 100, and previously served ACEC as national chairman, DIAA vice chair, and DOE construction committee.
A Memorable Introduction
Ted's daughter, Lauren Williams, a bio-medical engineer with Exact Sciences, gave a moving introduction that kept everyone in stitches (and a few tears). Emotions were evident in her childhood recollections of a father with an "inability to say 'no' to any committees or volunteer opportunities," but "who never missed a family dinner, sports event, or performance." She regaled attendees with the story of what she and her brother Ryan believed civil engineers did: Design Parking Lots! And no matter how boring that seemed to them on career day at school, she said "the interesting thing is that both Ryan and I grew up understanding the importance of being an engineer… but just 'some other kind.'" Fast forward "25 years from a skeptical teen," Lauren said "I get a little chuckle out of the calls I make home after a new shopping area opens or road expansion is in process…to tell dad how bad the parking lot is laid out, or wondering 'who approved that plan or that flow of traffic'… So maybe civil engineering is not so boring after all!"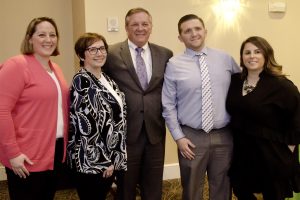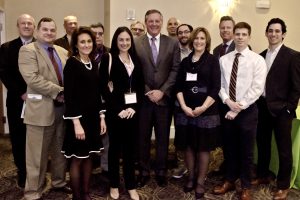 (see full introduction/speech)